Margaret Cariola, C.A.N.P.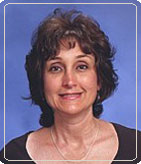 Margaret Cariola is a board certified Nurse Practitioner in Adult Health. Since joining Long Island Digestive Disease Consultants in 2004, she has assisted in the care and management of patients with various gastrointestinal disorders, including patient's with Irritable Bowel Syndrome, Inflammatory Bowel Disease, Gastroesophageal Reflux Disease, Chronic Hepatitis C and Colon Cancer Screening.
Prior to Long Island Digestive Disease Consultants, Margaret worked at Winthrop University Hospital in Mineola for 19 years as a Critical Care Nurse in the Surgical ICU and she was a Nurse Coordinator and Nurse Practitioner for the Open Heart Surgery Division.
Nursing Education:
Bachelor of Science in Nursing
State University of New York at Binghamton, Binghamton, New York
Master of Science in Nursing, Adult Nurse Practitioner Program
Adelphi University, Garden City, New York
Professional Affiliations:
Nurse Practitioner Association of New York State
Hospital Affiliations
John T. Mather Memorial Hospital
Port Jefferson, New York