H. Matthew Cohn, M.D.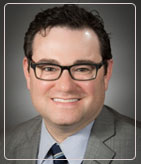 Dr. Cohn is board certified in Internal Medicine and Gastroenterology. His practice encompasses all of Gastroenterology with special interests in colorectal cancer screening and surveillance, inflammatory bowel disease, and alcoholic liver disease.
Dr. Cohn completed his Gastroenterology training at Case Western Reserve University where he was in the Clinical Research Scholars Program, supported by both NIH and internal grant funding. His research focus involved using artificial intelligence to predict clinical outcomes in Crohn's disease.
Medical Degree:
Eastern Virginia Medical School
Norfolk, Virginia
Residency:
Internal Medicine
Boston University Medical Center
Boston, Massachusetts
Fellowship:
Gastroenterology & Liver Disease
University Hospitals Cleveland Medical Center/Case Western Reserve University School of Medicine
Cleveland, Ohio
Professional Affiliations:
American College of Gastroenterology
American Gastroenterological Association
Hospital Affiliations:
John T. Mather Memorial Hospital
Port Jefferson, New York